GREENBRIER RECAP: VINCENT THE BRIGHT SPOT FOR IRON HEADS
News
Written by
Joy Chakravarty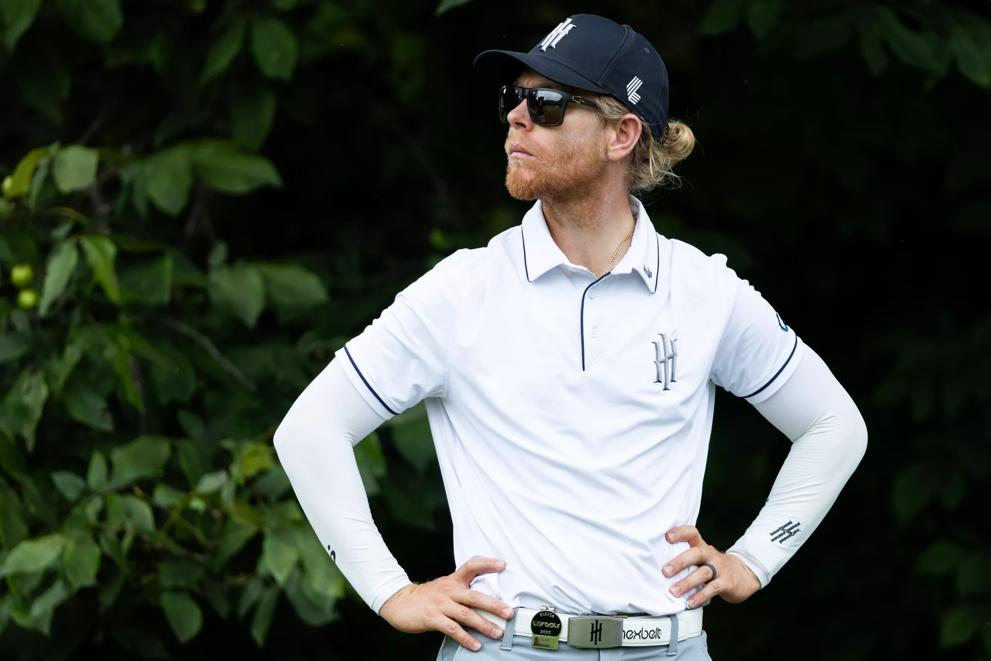 WHITE SULPHUR SPRINGS, W. Va. – Scott Vincent, the quiet, long-haired member of Iron Heads GC, once again showed his class with a sixth top-20 finish of the season in an otherwise disappointing result for his team.
The Iron Heads fought well over the last two days with a score of 22-under, but it was the opening round of 2-over – the third straight tournament they have had a Friday of plus score – that prevented them from challenging for points. They eventually finished 10th at 20 under.
Iron Heads fell one spot to No. 11 in the season-long team rankings and will have to aim for podium finishes to have any chance of moving into a position to select their opponent for the quarterfinal round in Miami
Zimbabwe's Vincent, who qualified for LIV Golf this season on the basis of his International Series performance on the Asian Tour, shot a 1-under 69 on Friday – five birdies undone by an unfortunate double bogey and two bogeys – but backed it with solid rounds of 64 and 65 over the weekend to finish tied 12th.
Here's a recap of Iron Head GC's performance at LIV Golf Greenbrier:
SCOTT VINCENT (-12, T12)
The smooth-swing Vincent was the toast of the tournament early this year in Singapore, where his fighting fourth-place finish included a stretch of 43 holes without a bogey. At the Old White course, he was in birdie-hunting form once again, making 19 of them and finishing second only to champion Bryson DeChambeau in that count.
The finish did help elevate him to 29th position in the Individual ranking and put him in a confident mood to finish inside the top- 4 by the end of Jeddah to clinch his LIV Golf card for 2024 season.
DANNY LEE (-3, T38)
The Kiwi golfer, winner in Tucson earlier this year in only the second start of his LIV Golf career, did not do much wrong except for carrying a balky putter throughout the whole week.
The 33-year-old gave himself several looks at birdies by hitting 33 fairways and finding 43 greens, but 95 putts through the three rounds was always going to challenge his tee-to-green efforts.
KEVIN NA (-1, T43)
With rounds of 73, 66 and 70, the Iron Heads captain went through a rollercoaster three days. He struggled off the tee (ranking 36th in fairways hit) and also with his usually trusted iron play, as he found just 34 greens in regulation, fewest in the field.
In the individual season-long standings, Na fell to No. 28.
SIHWAN KIM (+1, 46)
The good news for Kim is that he finished with a solid 3-under 67, his best round of the season. Kim will seek to build on the momentum and climb up the individual point standings (currently 50th).
---
STAT REVIEW
Field ranking in parentheses
Fairways Hit
Lee – 33 (T7)
Vincent – 29 (T22)
Na – 26 (36)
Kim – 25 (T37)
Driving Distance Avg.
Vincent – 316.8 (11)
Lee – 303.5 (27)
Na – 295.1 (38)
Kim – 281.4 (46)
Greens in Regulation
Vincent – 43 (T17)
Lee – 43 (T17)
Na – 34 (47)
Kim – 35 (T43)
Total Putts
Vincent – 85 (T10)
Na – 86 (T14)
Kim – 85 (T10)
Lee – 95 (T45)
Total Birdies
Vincent – 19 (T2)
Na – 12 (T30)
Lee – 10 (T34)
Kim – 8 (T44)